In-Game Chat
We use HeroChat for our chat system. There are several in-game chat channels. Here are the commands to use them. Square brackets denote required parameters, while parentheses denote optional parameters. The [channel] parameter can be either a channel's full name or nickname and is not case sensitive.
| Command | Description |
| --- | --- |
| /ch help (page) | Displays a help menu listing a brief description of all the available commands. |
| /ch list | List chat channels available to you. |
| /ch [channel] | Switch to sending chats to this channel by default. |
| /ch join [channel] | Join a channel you are not currently on. |
| /ch leave [channel] | Leave a channel you are currently on. |
| /tell [player] | Switch to sending messages only to the named player instead of a channel. |
| /tell | Leave off the player to switch back to sending messages to a channel. |
Available Channels:
Global ('G'): The channel for everything & everyone, color: White
Regional ('R'): Can be read only by people less than 128 blocks away; color: Dark Aqua
Architects ('A'): Can be joined/read only by Architects and above; color: Green
Master ('M'): Can be joined/read only by Masters and above; color: Rose
Designer ('D'): Can be joined/read only by Designers and above; color: Blue
Elder ('E'): Can be joined/read only by Elders; color: Gold
Trading ('T'): For trading requests & offers; color: Aqua
Off Topic ('O'): For all non-minecraft chat; color: Rose
Hunger ('H'): For chat during hunger games. Works only in the hunger game world; color: Aqua
Announcements ('U'): For all server announcements. You cannot leave or talk here. Only admin stuff that everyone has to know.
When you see people chat in-game, you will see something like this:
[G]
Daiyamondo++
(empire): Hi.
Each part tells you something:
[G] This message is being said on the "Global" channel.
Daiyamondo The color of this user's name tells you their user level (see below).
++- The presence of + or ++ after a user's name tells you they have donated money to the server.
(empire) The name of the world where this player is currently located, in this case, Empire.
Hi. Daiyamondo is saying "Hi." to someone. Perhaps it's you!
User Ranks and Chat Colors
| Rank | Color |
| --- | --- |
| Guest | Gray |
| Settler | Yellow |
| Citizen | Cyan |
| Architect | Green |
| Designer | Blue |
| Master | Red |
| Elder | Gold |
| Owner (uncovery) | Dark Red |
Other Chat Options
Uncovery Minecraft offers several other methods to chat with other players:
IRC
Teamspeak
Steam Group & Chatroom
Teamspeak
Teamspeak allows you to voice chat with other users. In order to use teamspeak, you have to download and install the teamspeak client. Then you can connect to the server at uncovery.me with the password dream.
The Teamspeak server also has user levels that are unfortunately not linked to the server and have to be manually given to users. As a new user on the teamspeak server, you are guest and can talk only on the "Guest Lounge" and "Help" channels. In order to be able to speak in the other channels, you need to become "Settler" level in Teamspeak. This can be only assigned by Masters & Elders. Masters & Elders can assign the Settler status to Guests by using the context menu as seen on this screenshot: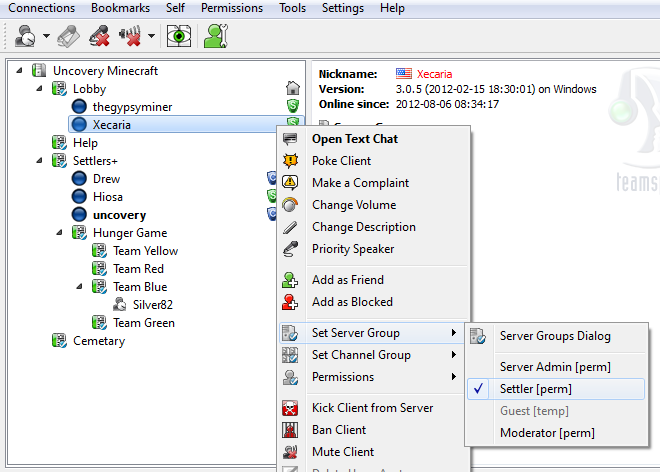 Masters & Elders have "Moderator" Privileges to assign the Settler Status. If you are an Master or Elder but do not have the Moderator Level then please ask Uncovery or SkilletFK ("Drew" in TS) to give it to you.
IRC
IRC is a text chat. We have an interface between the minecraft server and the chatroom. Whatever is said in Minecraft can be seen on the server and vice versa.
You can chat directly on this page, in the window below. If you do not want to use this here, you can reach the uncovery chat channel also by using a IRC client, which you have to download, configure etc, or by opening this web interface, which is the same as the window below, but outside of this website.
The irc network is irc.freenode.net and the channel is called #uncovery. Once you are connected, you cannot talk in the channel without registering on the IRC network. To do so, you need to follow these directions.
ATTENTION: The Web interface link above and the form below pre-fills your information such as nickname and channel for easy login. If you need to change your nickname on IRC because the one you use for minecraft is already given away, please connect to this link instead and enter your new nickname manually. There is no need to register a different nickname on this blog or even on minecraft.net.
Once you are registered and type something in IRC it will be seen in the game too. The only difference is that the nickname is followed by [IRC].
Sorry, but you need to log in to use the chat on this page!
+29
-3