Teamspeak allows you to voice chat with other users. In order to use teamspeak, you have to download and install the teamspeak client. Then you can connect to the server at uncovery.me with the password dream.
When you are in the channel  "In-Game Chat", you will be able to text-chat with the server and also read the global chat in the Teamspeak client.
In order to get speaking permissions in Teamspeak, make sure that your username in TeamSpeak is the exact same as in-game, including CAPS, then enter the following command in-game:
/teamspeak auth
Please note that if you are connecting to teamspeak with 2 different clients, make sure that they are all using the same Unique TeamSpeak ID. You can export the ID and copy it to another client in the "Settings" – "Identities" menu: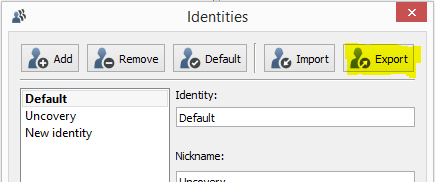 Save the file and import it on the 2nd client you have, and that client will have the same user rights.
If you authorize another client with another Unique ID, clients using your previously authorized ID will lose their Teamspeak rights.