There is a kickstarter project to revive the original ELITE game from 1984. If you remember this, you were part of the REAL pioneering times of PC gaming. If not, it's basically the space combat version of Minecraft with an endless, procedurally created universe. Here is a screenshot of the 1984 version: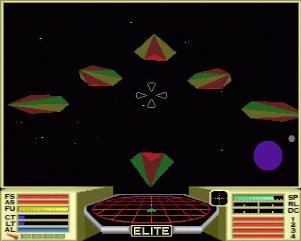 The original designers work on it and it is looking great so far. They are short of just a couple of percent for their funding goal, but the end is approaching fast. I backed them already. If you are into space games, you should check this out by clicking on this banner:

For those who are wondering if I am spending the funds donated for the minecraft server for this: No, I do not. I pre-paid the server already for 2 full years since there is a huge discount for that. Whatever you donate now to me only helps to pay back whatever I paid already for the server.