Bukkit (the system, built on the normal (vanilla) minecraft server, that allows all our plugins and non-vanilla stuff to run) has released the first developer builds for 1.7.2. So what is keeping us from upgrading?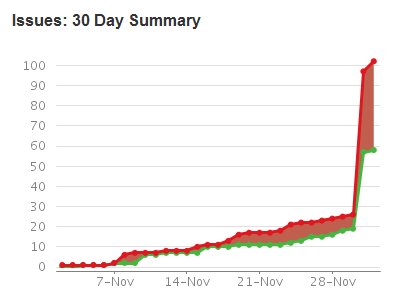 Well, as you can see in the graphic, there are still tons of bugs in it. The red line is the number of reported bugs, the green one is the resolved amount of bugs. Since the first dev version was released 1 day ago, people have been reporting bugs that need to be fixed until the first stable version will be released. The issue for us is that plugin developers need to fix their plugins to work with the new version, but since it will still change a lot (because they need to fix all those bugs), it does not really make sense to start working on the plugins before the biggest of them are fixed. So we have to first wait for the biggest bugs in Bukkit to be fixed, then for the plugin authors to fix their plugins. Please stand by and be patient.
In the meantime I will see what plugins still work and if I can try again to make a new map for the empire. So as you can see, I am frequently monitoring the situation so that we can upgrade as soon as possible.